Oct. 23, 2017, Kunshan - At the 2017 Chinese IC Industry Promotion Conference held in Kunshan city, China, Montage Technology's DDR4 Registering Clock Driver (RCD) M88DDR4RCD was awarded the "China Chip - Best Market Performance Product Award".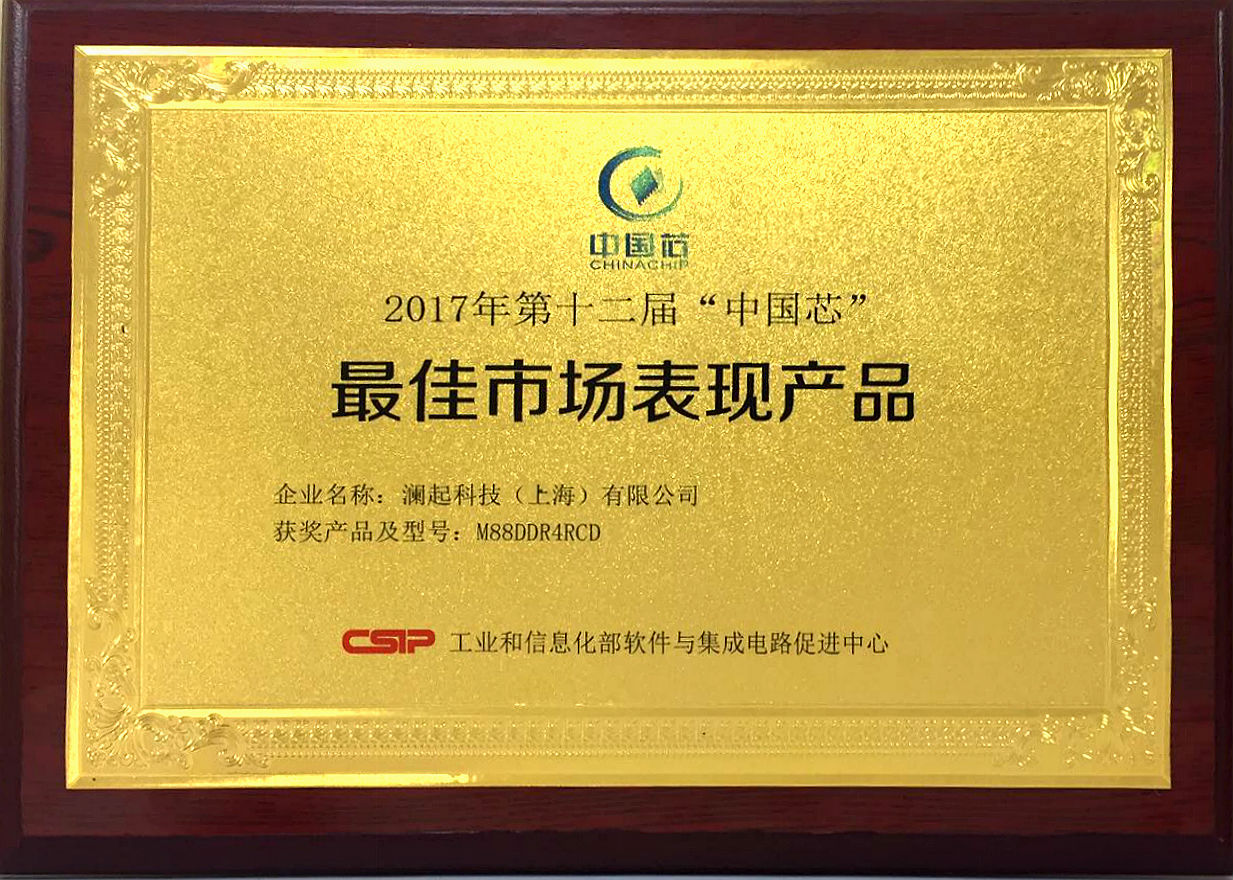 The M88DDR4RCD is a JEDEC spec compliant DDR4 RCD device designed to meet the increasing demand for speed and capacity of server memory systems. The RCD supports both RDIMM and LRDIMM applications for next generation server platforms with speed up to DDR4-3200.
The Chinese IC Industry Promotion Conference is a renowned event in China IC industry. It's a great honor for Montage Technology that the M88DDR4RCD has been selected as the winner out of 127 competitive products for its excellent sales performance and outstanding contribution to the development of the memory interface technology.
Jack Gu, Vice President of Montage Technology, was invited to deliver a speech entitled "CPU+ computing needs security inside" at the conference, discussing the challenge of information security in the Intelligent Era with industry experts present.
About Montage Technology
Montage Technology, one of the leading fabless semiconductor companies, is committed to providing high-performance IC based solutions for cloud computing and artificial intelligent (AI) markets. Dedicated for more than 10 years in the memory interface technology, the company is able to deliver high-speed, large-capacity memory buffer solutions of DDR2 to DDR5 to meet the growing demand in data centers. Montage's invention of DDR4 fully buffered "1+9" distributed architecture is adopted by JEDEC as an international standard, and its related products have successfully entered the industry mainstream memory, server and cloud computing fields and occupied a significant share of the global market.
Since 2016, Montage has been cooperating with Tsinghua University and Intel to develop Jintide™ CPU. A high-performance Jintide™ server platform combining Jintide™ CPU with Montage's hybrid security memory module (HSDIMM®) has been launched. The platform has realized real-time security monitoring function at silicon level and can play an important role in the information security field. This architecture also incorporates advanced heterogeneous processing and interconnect technologies for future AI and big data applications, which provides strong support of comprehensive data processing and computing power for various applications in the AI era.
Established in 2004, Montage Technology is headquartered in Shanghai and has branches in Kunshan, Xi'an and Macao SAR, and also has overseas branches in USA and Korea.
For more information regarding Montage please visit the Company's website at http://www.montage-tech.com.