M88MX5891 is a Compute Express Link™ (CXL™ ) Type 3 Memory eXpander Controller (MXC) used to provide high-speed, low-latency interconnect between CPU and CXL-based devices. The MXC integrates a CXL controller, a DDR controller, a RISC-V micro-processor and rich peripheral interfaces such as SMBus and I3C/I²C in a single chip. It is compliant with JEDEC DDR4/DDR5 standards and CXL 2.0/PCIe 5.0 specifications.
As the key component for memory expansion and pooling, the MXC is designed for use in add-in cards and EDSFF memory modules, which enables dramatically scaling of memory capacity and bandwidth to meet the ever-growing demand from HPC and AI applications.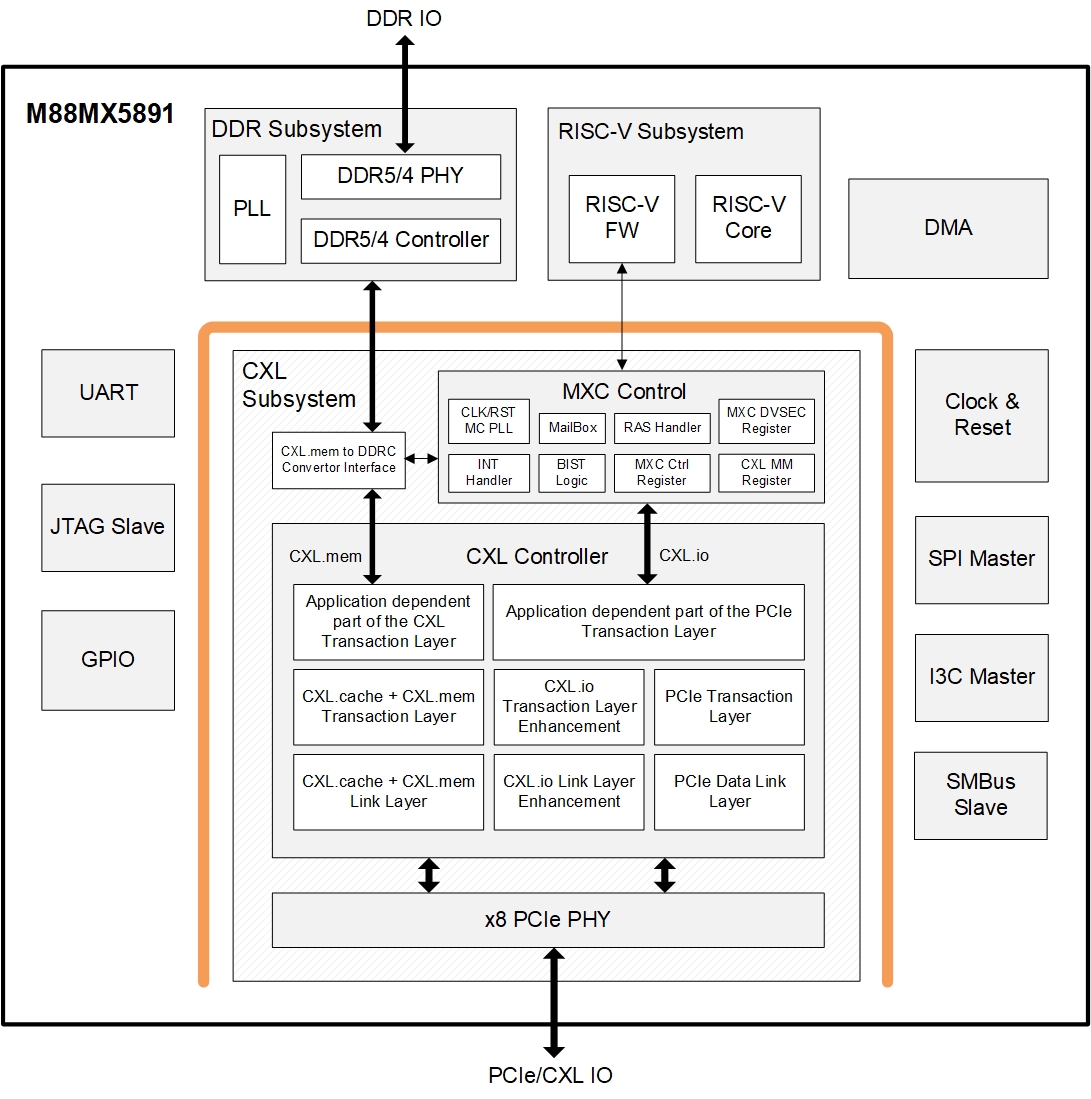 Features
CXL Type 3 Memory eXpander Controller

Integrated CXL controller, DDR controller and RISC-V micro-processor
On-chip PVT sensor
SMBus, I3C/I

²

C, and SPI interfaces
Package: 767-ball FCCSP

CXL Controller

Compliant with CXL 1.1 and CXL 2.0 RAS specifications, supporting CXL.mem and CXL.io protocols
Designed based on PCIe 5.0 interface, supporting up to 32 GT/s data rate (x8 lanes)
Rich RAS features

DDR Controller

Compliant with JEDEC DDR4/DDR5 standards
Support DDR4/DDR5 UDIMM/RDIMM and DRAM on-board
Support up to DDR4-3200 and DDR5-4800
Low power consumption
Optimized DDR I/O equalization and programmable I/O impedance
Application
Add-in card or EDSFF memory module for memory expansion, memory pooling, etc.
AI, machine learning, cloud infrastructure, high-performance computing, etc.